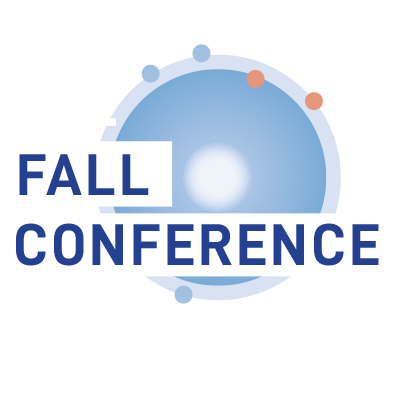 Age-Related Human Diseases Special Focus: Autophagy
25.09. – 27.09.2019
Eberhard Karls Universität Tübingen, Germany
24.09.2019 Science Outreach
Understanding the process of aging has always been a topic of fundamental interest in science.
As life expectancy rises, biomedical research focuses on ways to extend the human health span, hence aims to prevent or delay the onset of age-related human diseases.
Functional modulation of autophagy, an essential cellular survival program, represents a characteristic feature of aging and the basis for the onset of age-related human diseases.
The goal of this joint conference by the German Society for Biochemistry and Molecular Biology (GBM) and the German Society for Cell Biology (DGZ) in September 2019 is to bring together leading experts, students, young investi gators and industry to address recent discoveries on the topic of age-related human diseases, focusing on the role of autophagy in human pathologies.
25.-27.09.2019
Topics covered at the GBM / DGZ conference
will include
CANCER
NEURODEGENERATION
IMMUNITY
INFECTION
MOLECULAR MECHANISMS OF AUTOPHAGY
24.09.2019, 18:30h
Public lecture (in German)
"Ernährung und Gesundheit"
Frank Madeo, University of Graz, Austria
Open Forum (Podiumsdiskussion)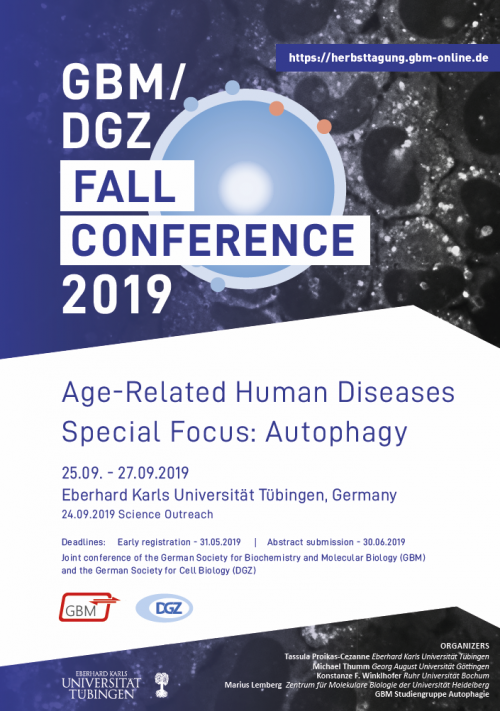 SHARON TOOZE
The Francis Crick Institute, London, UK
MARINO ZERIAL
Max Planck Institute of Molecular Cell
Biology and Genetics, Dresden, Germany
MARINA RODNINA
Max Planck Institute for Biophysical Chemistry,
Göttingen, Germany
Anthony Hyman
Max Planck Institute of Molecular Cell
Biology and Genetics, Dresden, Germany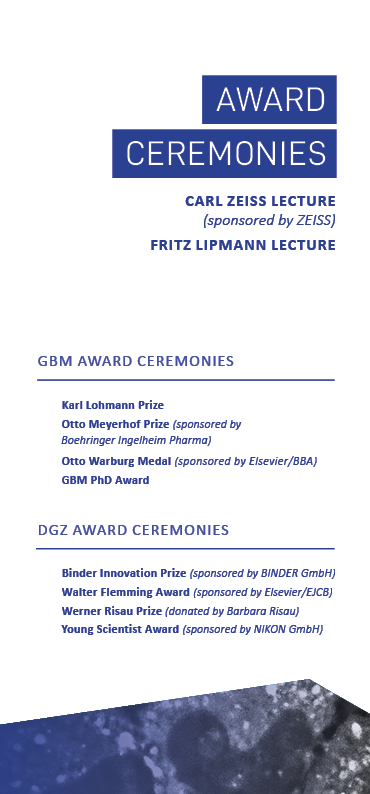 ANNE BERTOLOTTI
MRC Laboratory of Molecular
Biology, Cambridge, UK
PATRICIA BOYA
Centro de Investigaciones
Biológicas, Madrid, Spain
MARIA ISABEL COLOMBO
Universidad Nacional de
Cuyo, Mendoza, Argenti na
IVAN DIKIC
Goethe University Frankfurt,
Germany
EEVA-LIISA ESKELINEN
Universiti es of Helsinki and
Turku, Finland
GILLIAN GRIFFITHS
Cambridge Institute for
Medical Research, UK
MARCUS GROETTRUP
University of Konstanz,
Germany
Anthony Hyman
Max Planck Institute of Molecular Cell Biology and Genetics, Dresden, Germany
MARJA JÄÄTTELÄ
University of Copenhagen,
Denmark
HEINZ JUNGBLUTH
King's College London, UK
DANIEL KLIONSKY
University of Michigan,
Ann Arbor, MI, USA
NICHOLAS KTISTAKIS
Babraham Institute,
Cambridge, UK
FRANK MADEO
University of Graz, Austria
FULVIO REGGIORI
University Medical Center
Groningen, The Netherlands
MARINA RODNINA
Max Planck Insti tute for
Biophysical Chemistry,
Göttingen, Germany

DAVID RUBINSZTEIN
Cambridge Institute for
Medical Research, UK
KEVIN RYAN
The Beatson Institute,
Glasgow, UK
SHARON TOOZE
The Francis Crick Institute,
London, UK
RICHARD YOULE
Nati onal Institutes of
Neurological Disorders and
Stroke, Bethesda, MD, USA
MARINO ZERIAL
Max Planck Institute of
Molecular Cell Biology and
Genetics, Dresden, Germany
Eberhard Karls Universität Tübingen
Neue Aula
Audimax
Geschwister-Scholl-Platz
72074 Tübingen
Germany
Museum Obere Säle
Historic Halls
Wilhelmstraße 3
72074 Tübingen
Germany
Tassula Proikas-Cezanne
Eberhard Karls Universität Tübingen
Michael Thumm
Georg August Universität Göttingen
Konstanze F. Winklhofer
Ruhr Universität Bochum
Marius K. Lemberg
Ruprecht-Karls Universität Heidelberg
GBM Studiengruppe Autophagie